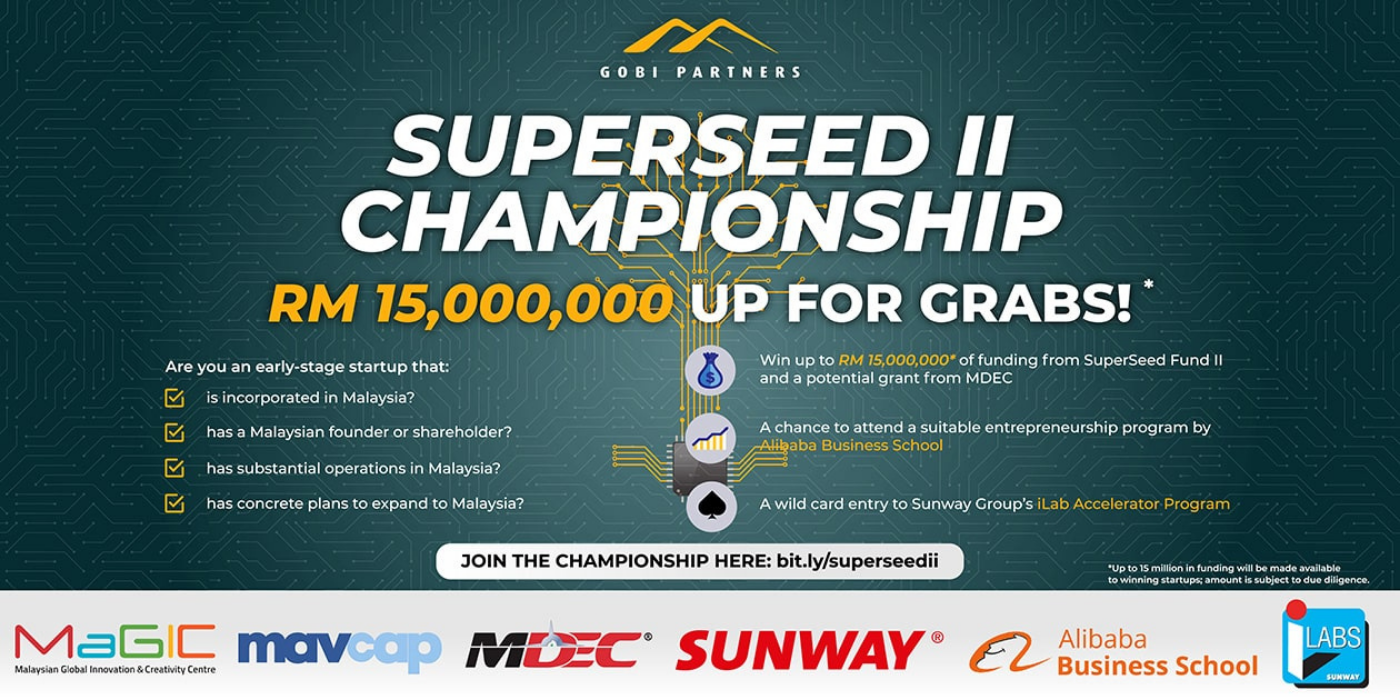 Source: Sunway
Circlepac is one of the Top 64 startups!
We are excited to announce that we are one of the startups in the Gobi Partners' Superseed II Championship under the Circular Economy vertical where we compete with 15 other teams in the same vertical to be in the Top 32 of the championship. The SuperSeed II Championship is a single-elimination ala sports style tournament, and is believed to be the first in Asia to adopt such a format for a startup pitching contest which will ultimately see four startups anointed the winners.
Winning startups will secure funding of up to RM15million from Pan-Asian venture capital firm, Gobi Partners under their Malaysia SuperSeed Fund II, a joint fund between Malaysia's largest venture capital company MAVCAP, and Sunway Group that focuses on financing early-stage startups, and a potential grant from the Malaysian Digital Economy Corporation (MDEC).
Key Verticals
Lifestyle (i.e. AI, B2B, B2C, Big Data, e-commerce, and logistics);

FinTech (i.e. crowdfunding, InsureTech, mobile payments, P2P lending, and robo-advisors);

Smart Cities (i.e. construction solutions, e-hailing and IoT)

Circular Economy (i.e. environment solutions)
Spot Circlepac among the brightest 64 teams selected for the competition:
Bracket 1: Smart Cities
Speedhome; Hom; HomeCrowd; Chupspace; Simplify; Tinking; Desight; Gururealiti; Delyva; Legatus; Pomen; GPS Fleet; Moovby; Nakride; WHIP; ACS Pentas.
Bracket 2: Circular Economy
NLY Tech; Tuppy; Grubcycle; Degrosery; Erth; Safari Tech; Circlepac; Maeko; Goloco; Engage; Lokein; Tradly; Ezipod; Interior Hub; Klean; Vechnology.
Bracket 3: FinTech
MyCashOnline; Mercury Pay; Fatehub; Vsure.life; HeyAlfred; Finology; MyMy; Senang Insurance; Kryptopos; Bukku; ReGov; Global PCK; GA Alliance; Currenseek; Motionscloud; Agiliux.
Bracket 4: Lifestyle
Memori; MindAppz; StudentQR; Anak2U; Bountie; Chaintope; TalentCloud; Qwork; Kravve; Mum's Kulfi; Stixfresh; Table2Own; MyGroser; Bruita; Ento; Babylon Farm.
Key takeaways from the competition
The first round was based on online public voting which constitutes 70% of the weightage while the remaining 30% comes from the judges' votes. Through Stage 1, we understood the importance of a well-executed marketing campaign to build awareness and traction for startups to thrive among the competition. Since we were judged based on our company profile displayed on the organizer's website, we also knew that a startup needs to tell a compelling story to articulate its vision to obtain buy-in from prospect customers.
UPDATE: We did not make it through the Top 32 but we are still very grateful for the opportunity to be among the startups that were selected for this competition. Regardless, we would like to congratulate the final 4 (Speedhome, Lokein, Stixfresh and MyCashOnline) and we will continue our journey to pack it green with Circlepac! Join our journey and make Malaysia cleaner, we can do this Malaysians.